BPR 25
Fully automatic palletizer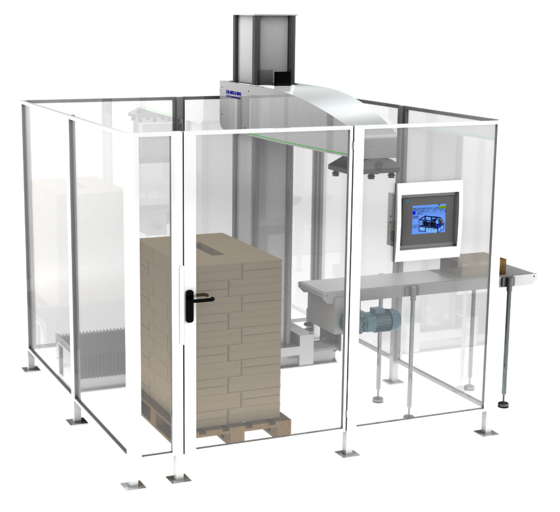 Description
Although this machine was originally designed as the end-of-line solution for our wrapping plants, this 4-axis palletizer can also be used for a
wide range of different palletizing applications. Reliability and fault-free operation are the criteria by which this palletizer is designed and built.
Range of Application
Fully automatic palletizer, specially designed for the clean palletizing of packages with a weight between 1 kg and 25 kg.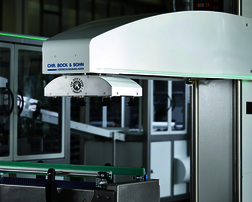 Function
The carton boxes are supplied to the pickup station of the palletizer via a controlled conveyor. The box is then detected by sensors and the palletizer positions its beam in order to pick up the box precisely utilizing its pick up system. Depending on the application the pick up system is equipped with suctions cups, mechanical handling systems or a combination of both.
Synchronously moving all axis the box is taken to its precise position on the pallet, while the last few millimeters are moved diagonally so that the packages are as close together as possible to create a solid layer. Depending on the version the finished pallet is either manually exchanged with an empty pallet or transported automatically to the transfer point for further transportation.
Technical Details
range of carton-box weights:

1 kg –25 kg

pallet sizes:

Euro-pallets or other sizes up to 1,5m x 1,5m

pick up system:

vaccum, mechanic or a combination of both

energy consumption:

4 kW in total

weight of machine:

700 kg

handling:

line supervision (1 person)
Advantages
clear advantages....
robust and compact design
intuitive operation via colour touch screen
fully automatic format change
very small footprint
integrated packing scheme generator (also available for PC)
'Beluga Clean-Line' for function and design
,Mood-Line' with enhanced optical status signal
world wide teleservice via internet
well established technical concept - Made in Germany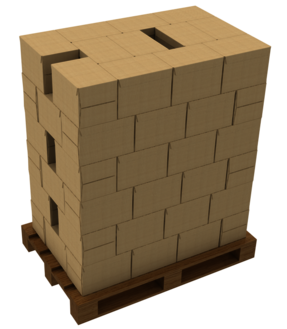 Accessories
As a convincing service partner we provide you with thorough advice and service before and during the order processing and of course beyond this, with a reliable after sales service.
Design, mode of operation and handling of our machines are always state of the art in technology.
All given specifications are basic values and subject to change without prior notice.