BWA 25-V
Fully automatic wrap-around case packer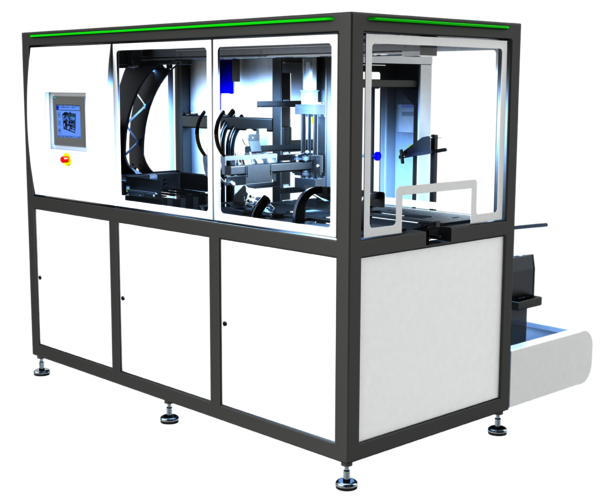 Description
The product and carton transport is realized via servo-controlled linear actuators, which are complemented by proven conventional drive systems. The robust system is characterized by maximum flexibility. The adjustment motors allow a rapid, fully automatic switch over to other formats, ensuring shortest changeover times. This also includes parameters of sensors, glue position and the different speeds that are stored format-dependent.
range of application
Fully automatic cartonizer for blocks and plates, especially developed for the gentle packaging of food fats. Carton weights of up to 25 kg, achieved by combining packages with an individual weight between 1 kg and 25 kg.
Especially wrapped products with flaps reacting sensitive to any contact are properly assembled and cartonized with maximum precision. The stainless steel design of the BWA 25-V ensures highest hygienic standards for the application in food industry.
function
The product is supplied via the infeed conveyor of the cartonizer and placed onto a platform for accumulation followed by the stacking from bottom up. The full stack is pushed horizontally into the upright standing carton blank which is then folded around it. Hot melt glue is economically applied at the exact position, followed by the closure of the side flaps giving the box its stable shape. The finished carton box leaves the machine in line with the inlet. If needed the machine can be equipped with a turning station.
technical details
supported carton box weights:

8 kg - 25 kg

weight of packages:

1 kg - 25 kg

carton sealing:

hot melt

energy consumption:

7 kW in total

weight of machine:

2,4 t

handling:

line supervision (1 person)
advantages
clear advantages ...
robust and compact design
intuitive operation via colour touch screen
fully automatic format change
very small footprint
huge carton hopper
clear and well arranged working area
maintenance-free machine concept
,Beluga Clean-Line' for function and design
,Mood-Line' with enhanced optical status signal
world wide teleservice via internet
well established technical concept - Made in Germany
accessories
As a convincing service partner we provide you with thorough advice and service before and during the order processing and of course beyond this, with a reliable after sales service.
Design, mode of operation and handling of our machines are always state of the art in technology.
All given specifications are basic values and subject to change without prior notice.